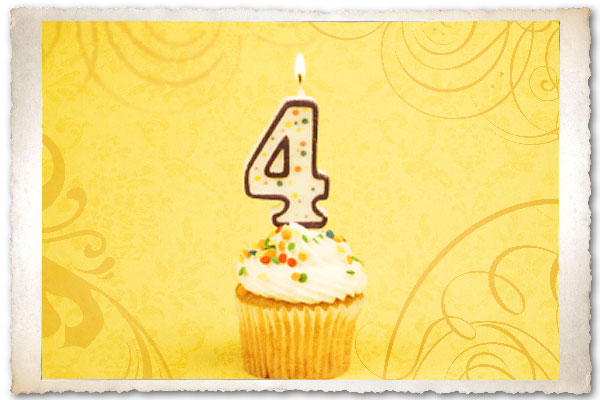 The author of a blog I enjoy reading — it's about the adventures of an English-speaking resident of Prague — recently announced that his blog is now EIGHT years old! It seems like only yesterday that I discovered it, swift on the heels of his having begun writing it. Time flies! But it made me think, "How long have I been writing THIS blog?"
So I checked. This blog began in January, 2013. So it's just celebrated a "Happy Belated 4th Birthday!" We will hit the 300th post sometime later this year — this post is the 260th since that first post slightly more than four years ago.
Sometimes I have a series of posts planned out weeks in advance. Sometimes I don't know what I will post about until I realize that it's time to post something and I have nothing written! In either case, I hope you — the READER — find them interesting and informative and enjoyable. (Or at least one of these qualities.) And I hope you check back each week to see what is new here. (You can SUBSCRIBE TO THE BLOG, if you want. See the place to do that on the right side of the page? I think that means you get an automatic email when there is a new post here. Or you get an email that contains the post itself. If you SUBSCRIBE, let me know which it is.)
A fourth birthday is momentous. When a child turns four, it means they are almost ready for kindergarten and imaginary friends are important. (That's still true for me!) In the Bible, there are 4 gospels (Matthew, Mark, Luke, John) and 4 major prophets (Isaiah, Daniel, Jeremiah, Ezekiel). There are also the 4 horsemen of the Apocalypse — who could forget them?! The tarot cards numbered "4" are about consistency and stability and the Emperor card is the fourth of the Major Arcana, signifying authority and competence as well as the need to make something solid and real.
It was also an honor and a pleasure to recently be a guest on British author E. Rachel Hardcastle's podcast.
"Happy Birthday, blog-readers!" We made it this far–HUZZAH!