Non-fiction Available: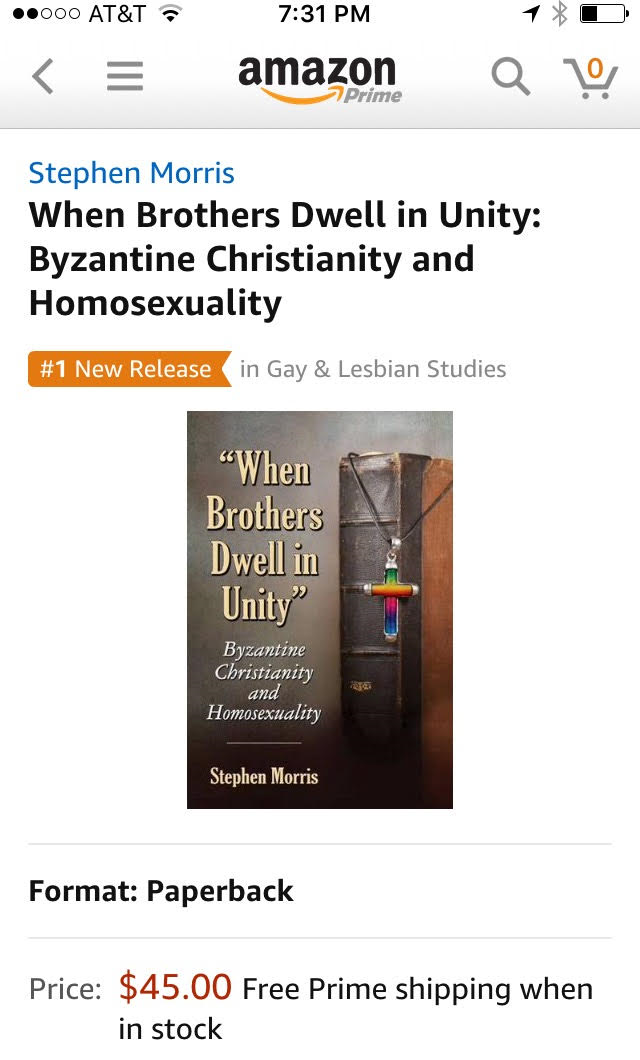 Bankers? They were to be forbidden communion, socially shunned, denied church funerals, and not commemorated during prayers for the dead. Men and women who committed fornication or adultery? They were forbidden communion for years. Men and women who remarried after divorce or widowhood? They were to be forbidden communion for years and then only allowed communion on a few holy days and even then only after weeks of sexual abstinence. Men who had sex with other men? They were to be denied communion for either 7 or 80 days.
Stephen also writes nonfiction about sexuality in Byzantine Christianity that has been widely acclaimed and which has received enthusiastic endorsements. Scholars have called his work "original and significant" (Claudia Rapp, University of Vienna), "refreshing and courageous" (Wendy Mayer, Australian Catholic University), and "fascinating" (Mathew Kuefler, San Diego State University).
You can see more about his nonfiction work at www.whenbrothersdwellinunity.com.
When Brothers Dwell in Unity: Byzantine Christianity and Homosexuality (McFarland, 2016) is available in both paperback and Kindle editions.
Please be sure to "FOLLOW" him here in order to receive notifications as new books become available.
I'm also featured on @DIYMFA Radio, where I share an inside look at my #nonfiction book WHEN BROTHERS DWELL IN UNITY: BYZANTINE CHRISTIANITY AND HOMOSEXUALITY. https://DIYMFA.com/179