Available on Amazon NOW!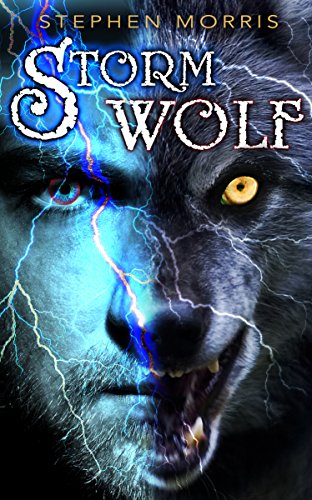 "Libahunt!" Alexei breaks the terms of the wolf-magic he inherited from his grandfather and loses the ability to control the shapeshifting, becoming a killer and slaughtering his neighbors, his friends — even his family. His grandfather's magical wolf-pelt was meant to protect their rural village in 1880s Estonia by fighting the terrible storms in the sky that could devastate the farms and fields but instead it drives Alexei to kill with impunity. Heartbroken at what he has become, Alexei flees his home and wanders through Estonia, Latvia, Lithuania, Poland, and Bohemia. He encounters the Master of Wolves who forces him to terrorize local farmers and the infamous Frau Bertha with her belt of sailor-skin who traps those who anger her in the form of wolves. Dare he hope to ever find an enchanter who can free him from the curse?
Reviews:
"This decidedly adult werewolf story feels like an adventure yarn as Alexei pursues a quest and encounters allies and baddies along the way…. Morris' werewolf isn't a fur-coated romantic, but a refreshingly murky protagonist who's both flawed and sympathetic; he kills innocents, but never intentionally. There are quite a few werewolf onslaughts, which the author unflinchingly portrays as bloody and brutal….
"A dark supernatural outing, featuring indelible characters as sharp as wolves' teeth." (Kirkus Reviews)
"This is both a historical novel and a werewolf novel, and the combination is intriguingly like the experience of reading Dracula. The connection to Eastern Europe myths and legends gives this additional interest, and the portrayal of the setting, the prominence of the forest and field and superstitions, was well-done.
My grandmother was Lithuanian, so I especially enjoyed the descriptions of the townspeople's rituals and traditions. The contrast between the different countries was interesting and described with vigor and color. The action scenes were also done well and vividly….
"The characterization was really intriguing. Alexei was a deep character, doomed by his fatal flaw of wanting more and more experience and power, and suffering for it for years to come. I found myself sympathizing with him as he really was exploited, even if he at some level brought it on himself.
Good work! The use of the old legends and suspicions really energized and individualized the story."
(comments by a Judge, 4th Annual Self-Published e-Book Awards)
"…a unique weaving together and retelling of central and eastern European werewolf folk tales. Set in 1890, when such tales were still being told, Storm Wolf stands apart from contemporary myth and legend retellings… The magic—Alexei's battles with storm creatures, the conjuring of a snake demon from pipe smoke, a witch's talisman of skin stripped from a sailor—is extraordinarily well imagined and described here. Dollops of regional history and glimpses of customs and legends are fascinating." (Blue Ink Reviews)
"…the beginning of the book also serves to give us a thorough grounding in the setting, which is impressively fleshed out by Morris, and provide an unusual as well as detailed folkloric background for the tale. Morris has done extensive research about the folklore, customs, daily lives, and language of the people of 19th-century Estonia, Latvia, and Lithuania, and it shows. Morris's initial premise—that of a man who becomes a werewolf willingly to protect others—also puts a welcome and unusual spin on things.
"Alexei is also a highly sympathetic, realistically flawed character who the author is clearly invested in, and this enthusiasm is infectious. Trouble seems to hound Alexei (forgive the pun), both as a result of his inner wolf and some seriously bad luck, and it's easy to root for him to find peace with himself and the world. Morris also takes care to give us enough information about secondary characters for readers to care about what happens to them, sometimes—perhaps especially—when they are in danger of meeting bad ends.
"Filled with details that make for a sincerely rendered world, peopled with characters who breathe; STORM WOLF is a thoughtfully constructed fantasy tale filled with emotion and action." – Indie Reader
"Morris puts a new spin on Baltic folklore in his latest novel. A unique coming of age story set in the latter part of the nineteenth century, Morris' plot features Alexei, a young man whose lack of understanding in old-world traditions gets him in Lycanthropic trouble. Basically, Alexei has the ability to transform into a werewolf. Morris surrounds his unseasoned character with an interesting cast made up of thunder dragons, wind hags, and storm goblins, to name a few, as his journey takes him through Latvia, Lithuania, Silesia (Poland), and Bohemia (the Czech Republic). Morris even includes the legendary Frau Bertha (or from the German, Perchta). Sprinkled with Estonian language, Morris' narrative follows typical folktale storytelling. Replete with all the whimsical trappings, readers can expect a flurry of surprises amid anticipated scenes. A fantastical read that appeals to young and old alike." — Red City Review
Shelf Media Group announced their selection of the 100 Notable Books of 2016 and Storm Wolf was one of them!
Click here and then FOLLOW my Amazon Author page to keep in touch on other upcoming releases!