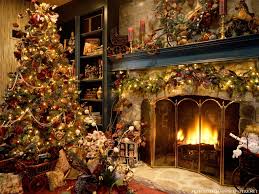 Yule or Yuletide ("Yule time") was a religious festival observed by the Germanic peoples, later being absorbed into and equated with Christmas. Scholars have connected the celebration to the Wild Hunt, the god Odin and the pagan Anglo-Saxon Modranicht.
Terms with an etymological equivalent to Yule are used in the Nordic countries for Christmas with its religious rites, but also for the holidays of this season. Yule is also used to a lesser extent in English-speaking countries to refer to Christmas. Customs such as the Yule log, Yule goat, Yule boar, Yule singing, and others stem from Yule.
Yule is the modern English representative of the Old English words ġéol or ġéohol and ġéola or ġéoli, with the former indicating the 12-day festival of "Yule" (later: "Christmastime") and the latter indicating the month of "Yule", whereby ǽrra ġéola referred to the period before the Yule festival (December) and æftera ġéola referred to the period after Yule (January). Both words are thought to be derived from Common Germanic, and are cognate to Gothic (fruma) jiuleis and Old Norse (Icelandic and Faroese) jól (Danish and Swedish jul and Norwegian jul or jol) as well as ýlir, Estonian jõulud and Finnish joulu. The etymological pedigree of the word, however, remains uncertain, though numerous speculative attempts have been made to find Indo-European cognates outside the Germanic group, too.
The noun Yuletide is first attested from around 1475.
The word is attested in an explicitly pre-Christian context primarily in Old Norse. Among many others, the long-bearded god Odin bears the names jólfaðr (Old Norse 'Yule father') and jólnir (Old Norse 'the Yule one'). In plural (Old Norse jólnar; 'the Yule ones') may refer to the Norse gods in general. In Old Norse poetry, the word is often employed as a synonym for 'feast.'